The Summerfield Carnival was a BLAST!
As a first resident event in some time due to COVID-19, We knew we needed to make it great! We brought in a colorful train ride that rolled through the parking lots. There were ponies that arrived during the event offering children rides. For many of these children, it was there first time ever on a horse! Mr. and Mrs. Glory clown came to the Carnival and brought face painting and balloon-tying for the children. Games were played and family time was being spent free of cost!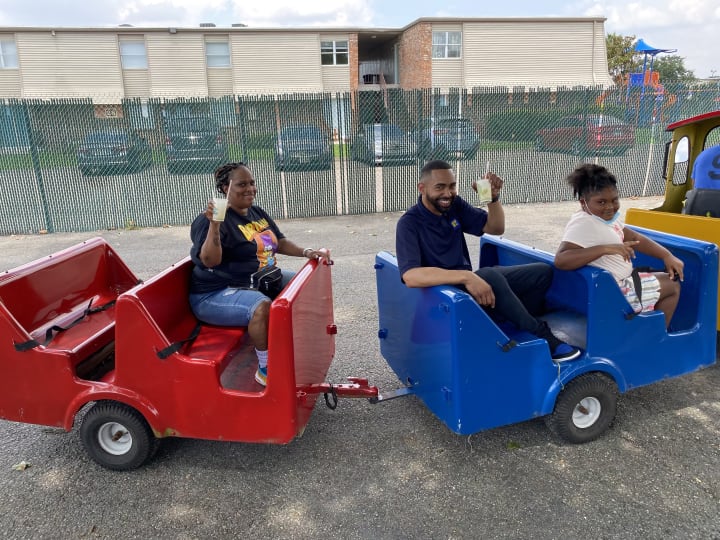 The fun continued with many tasty treats! The Carnival, much like a real carnival, had Pizza, Cotton Candy, Snow Balls, Nachos, Popcorn and plenty to drink! Familiar faces from Plum Street Snowballs made over 200 snowballs at the event! With so many treats, the only concern was if we could eat it all! Don't worry, we eat a ton and gave away all the extras! 
Once the event started to wind down, we gave all the children school supplies and had an Amazon gift card giveaway! We wanted to help out with the school supplies to show our understanding and appreciation to Summerfield's great residents for sticking with us during these tough times. We hope that the Carnival was a nice escape from the issues of the present and to give everyone a chance to spend care-free quality time with their families!
For more content from the carnival, please follow our social media pages @SummerfieldApartments on Instagram and Facebook.
Special Thank Yous: Plum Street Snowballs, Mr. and Mrs. Glory Clown, Dream World Party Rentals, Pony Tales, Gerald Snowton, Jefferson Parish Sheriff's Office, The Mayfair Apartment Homes, and Emerald Pointe! Without our sister properties and our local businesses we would not have been able to bring this event alive!
See ya in the next blog or on the social media pages!
Harrison